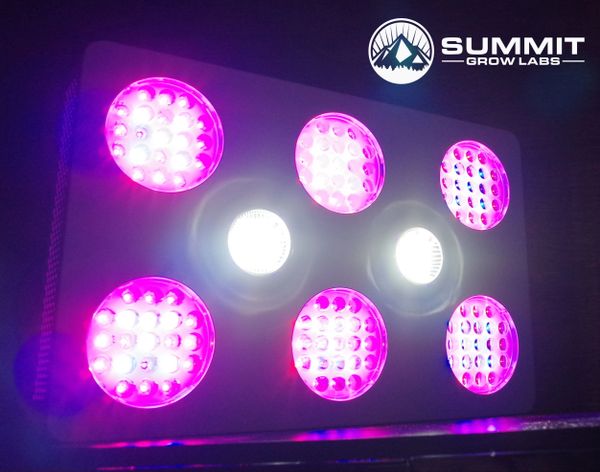 XP400 - Summit Grow LED
Summit Grow LEDs give your plants the exact light they need.
Buying a grow light is the biggest investment you will make in your indoor garden and should be treated that way. Its easy to get overwhelmed with the countless options, data points and opinions but at the end of the day all that matters are the results. You can go out and throw your money away on a cheap light but that only leaves you with a hole in your pocket, disappointing results and wasted time.
With our team of experienced growers we have sorted through all the data and opinions to deliver the Summit Grow LED. Our lights hit all of the data points from spectrum and PAR to deliver amazing results. We have been able to do this all while reducing noise, decreasing heat, and improving the life span of the light.
Your satisfaction is so important to us and we are so confident in our light we offer a no questions asked 120 day money back guarantee. In addition to our 120 day money back guarantee we offer a full 3 year, no hassle warranty to cover any manufacture defects. Grow Smart. Grow Safe. Simply Grow.
The XP400 replaces 800W HID/HPS




Covers up to a 3.5' x 3.5' grow area




Summit's exclusive

photosynthesis targeted

full (13 band) spectrum




PAR values measure 1150 at 18"




(2) CREE CXA 2540 COB - (126) Bridgelux 5W LEDs




Veg. and Bloom Settings




Low power consumption - Veg - 120W, Bloom - 235W, Full Cycle (Veg and bloom) - 355W




Whisper Quiet




No additional cooling required




3 Year Warranty




50,000 hour lifespan




A Superior Indoor Growing Experience




120 Day Money Back Guarantee
Your XP400 grow light
6' power cable
Hanging cables
Reviews