Denali Grow Tent - 4.5'D x 4.5'W x 7'T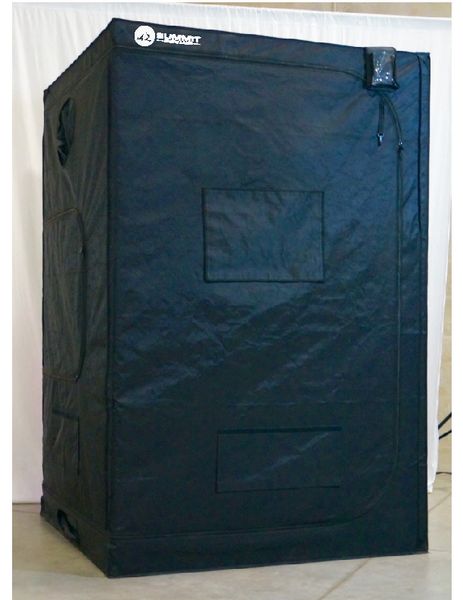 Denali Grow Tent - 4.5'D x 4.5'W x 7'T
Summit Grow Tents are the foundation of a solid indoor garden.
Summit Grow Tents are designed for you by you.  Before designing the tent we asked you what mattered most to you and what features you wanted.  We listened.  When you get a Summit Grow Tent you can expect the highest quality, superior growing experience. No detail was overlooked and no feature was forgotten.

First and only exclusive LED grow tent




Strongest grow tent on the market - Holds 300+ lbs




25mm powder coated, locking steel poles and corners




Dense 1680D canvas w/Diamond reflective technology 




7' Tall for larger crops and more space to work




Oversized "D" doors for easy access 




Smooth operating military grade zippers




Double flap closure around all zippers for light tight operation




Double cinching ducting ports




360 degree plant access




Waterproof removable liner to protect against spills - making clean-up easy




Mesh screens to keeps insects and critters out




Large window with velcro closure




Hydroponic port




Exterior hydrometer pocket




Hanging bag for all your gardening tools 




Clip for hanging door when working inside 




3 year warranty
Construction
We've all heard the saying, "Your home is only as solid as its foundation." The same goes for your grow tent.  Summit Grow Tents are constructed with 25mm powder coated locking steel poles and corners.  Capable of holding 300+ lbs this makes Summit Grow Tents the strongest grow tents on the market - period. 
The material on a grow tent should keep light in and out while containing noise and odors.  Summit Grow Tents are constructed with the very best 1680D canvas with Diamond reflective technology.  This makes our tents 3-9x denser than standard grow tent material and nearly 100% reflective delivering more light to your plants while reducing noise and containing odors. 
Zippers are a very important part of the grow tent construction, they see more use and abuse than any other component on the tent and we expect them to work over and over again.  You told us you wanted them heavy duty but still smooth in operation.  We answered. The zipper on Summit Grow Tents is military grade zipper with large teeth and large pulls for your zipping pleasure that will operate smoothly for the lifetime of the tent.
Features
Summit Grow Tents are packed with useful features to give you a superior growing experience.  We'll break them down one by one and tell you why they matter.
Exclusive LED Grow Tent
The shift is happening.  HID/HPS is out and LED is in, especially for indoor home growing.  We tested tents with the light ducting ports and decided they needed to go.  All the extra ports needed for cooling the high heat HID/HPS lights create potential failure points for light to escape.  We removed all of the unnecessary vents from Summit Grow Tents, this modification allowed us to increase the size of the side doors for easier access.  Less is more when it comes to growing with LEDs.
"D" Shaped Doors
There was no question when the results came in indoor growers prefer the "D" shapped door.  Its quicker and easier to get in and out of than "T" style doors and paired with our military grade zipper its has never been easier to get in and out of a grow tent.
Large Window
Sometimes you don't want to open up your grow tent but want to take a brief look inside and make sure everything looks ok.  We have incorporated a large clear window with velcro closure on the front of all of our tents for your viewing pleasure.  
Mesh Lined Air Vents
Keeping a controlled environment is a big advantage when you grow in a grow tent.  All of the fresh air vents on our grow tents incorporate a tight mesh screen allow plenty of fresh air while keeping bugs and critters out.
Waterproof Liner
Lets be honest gardening can be messy.  The waterproof liner on the floor of the Summit Grow Tent, literally, has you covered.  If you do have a little or big spill simply remove the liner, rinse it out and put it back in.  No need to worry about ruining your floors.
Hanging Bag
Other manufactures sew pouches into the side of their grow tents.  The problem with that is people use them for nutrients and tools (as they were intended) but this weight stretches the stitching and fabric which creates holes for light to get in and out.  Our solution is simple and much more useful.  All of our grow tents come with a large hanging bag that can be hung anywhere inside of the grow tent.  Its velcro straps make moving it or taking it down when gardening a breeze.  
Hydrometer Pouch
There will be times when you are be curious about the conditions inside of your grow tent but you don't what to open it to find out.  To remedy this we have included a removable hydrometer pocket with probe port for easy monitoring of your environmental's without opening your grow lab.  
Hydroponic Port
As more and more people move towards hydroponic gardening we offer the first standard hydroponic port on our larger grow tents.  These ports allow you to keep your reservoir outside of your grow tent for easy monitoring, lower temperatures and most importantly more room to grow.
Grow Smart. Grow Safe. Simply Grow.
Reviews